Review: Heir of Fire - Sarah J. Maas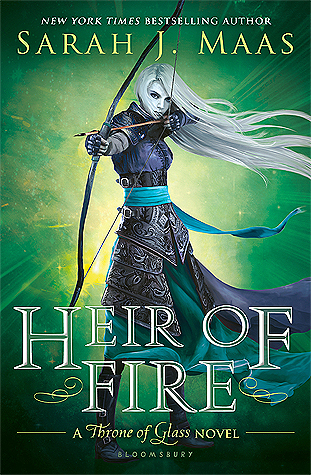 Heir of Fire
by
Sarah J. Maas
My Rating : {★★★★★}
Young Adult Fantasy
Published September 2nd 2014 by Bloomsbury USA Childrens
Source: Purchased
Celaena has survived deadly contests and shattering heartbreak―but at an unspeakable cost. Now, she must travel to a new land to confront her darkest truth . . . a truth about her heritage that could change her life―and her future―forever. Meanwhile, brutal and monstrous forces are gathering on the horizon, intent on enslaving her world. Will Celaena find the strength to not only fight her inner demons, but to take on the evil that is about to be unleashed?

The bestselling series that has captured readers all over the world reaches new heights in this sequel to the New York Times best-selling Crown of Midnight. Packed with heart-pounding action, fierce new characters, and swoon-worthy romance, this third book will enthrall readers from start to finish.
Wow. This series is just becoming increasingly hard to review. Not only because of the spoiler factor but because I LOVE it so much and it's hard to be all rational and comprehensive when I just want to scream "JUST READ IT AND LOVE IT!" (Serious flashbacks to my
Crown of Midnight review
here).
So how do I review this without placing one massive spoiler tag over the entire review?
Well, let me start by saying that THIS IS WHERE THE SERIES GETS REAL -
there's more fantasy, more complexity, more darkness, there's ships sinking all over the place and there's some serious soul shredding about to go down.
Celaena is shattered after the events of
Crown of Midnight
and I truly enjoyed the way
Sarah J. Maas
broke her down and tore her apart and then slowly but surely pieced her back together. She is no longer the often bratty and brash character that we met in the first two books. There is so much character growth happening throughout this series and it is fantastic to see. Maas is not afraid to show us all of these characters' flaws and insecurities and as such has created
believable characters with an incredible depth to them but also with an incredible capacity to disappoint us and to just be human
. It takes the reader on a full roller-coaster of emotions.
There's also the introduction of entirely new places and a whole host of new characters. I love Wendlyn and the Fae and all that happens there. There's also the introduction of the witch clans and I find them utterly fascinating and some of the more interesting characters in the series.
I know that the Ironteeth witches are disgusting - they kill humans for sport and hunt down the gentler Chrochan witches for revenge after the Witch wars, but there's also an addictive quality to their story and (I believe) far more of their tale to be told. There seems to be so much foreshadowing here and, like the wyverns just the thought of an IronTooth witch strikes fear into the hearts of their enemies and they say they are born without hearts. And yet - like the wyverns there is just something else there - some quality of loyalty and even love, joy and yes, even mercy.
Manon Blackbeak in particular is a really fantastic character and I really enjoyed learning more about her and seeing her POV chapters. I'm thoroughly invested in her storyline and cannot wait to read more about her and her increasing sense of humanity AND her Thirteen.
There's just so much to love about this book
. Not only the brilliant characters (Celaena, Dorian, Rowan, Aedion, Manon, Emrys to name a few of my favourites), but there's also the immaculate world building and the way that
Sarah J. Maas weaves her words to completely ensnare her readers and sweeps you away with the pure EPICness of the story
.
There isn't a lot of romance here which I really enjoyed as well - there's more of the characters picking themselves up and putting themselves back together and seeing who is left in their hearts.
I have thoroughly enjoyed rereading these books and discovering some of the little things that I previously had missed or under appreciated; the meticulous plotting and planning that has gone into the series; the little titbits of information I never thought to think important; reliving the scenes that broke my heart and gave me some of the worst book hangovers I have EVER endured.
"There is no throne for her."
"Then I'll build one myself from the bones of our enemies."
←
Crown Of Midnight
(Throne of Glass #2) --
Queen of Shadows
(Throne of Glass #4)→