Review: Sky in the Deep - Adrienne Young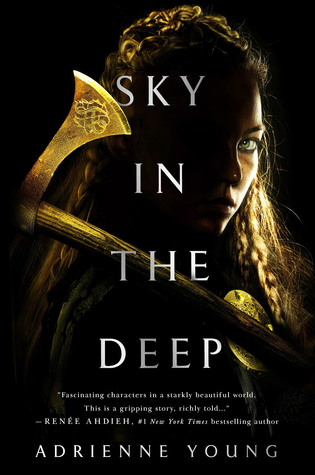 Sky in the Deep
by
Adrienne Young
My rating: {★★★☆☆}
Young Adult Fantasy
Expected publication: April 24th 2018 by Wednesday Books
Source: ARC received from Publisher via NetGalley
OND ELDR. BREATHE FIRE.

Raised to be a warrior, seventeen-year-old Eelyn fights alongside her Aska clansmen in an ancient rivalry against the Riki clan. Her life is brutal but simple: fight and survive. Until the day she sees the impossible on the battlefield—her brother, fighting with the enemy—the brother she watched die five years ago.

Faced with her brother's betrayal, she must survive the winter in the mountains with the Riki, in a village where every neighbor is an enemy, every battle scar possibly one she delivered. But when the Riki village is raided by a ruthless clan thought to be a legend, Eelyn is even more desperate to get back to her beloved family.

She is given no choice but to trust Fiske, her brother's friend, who sees her as a threat. They must do the impossible: unite the clans to fight together, or risk being slaughtered one by one. Driven by a love for her clan and her growing love for Fiske, Eelyn must confront her own definition of loyalty and family while daring to put her faith in the people she's spent her life hating.
I buddy read this book with the super amazing Amy from
A Magical World of Words
. We had a lot of fun chatting about this book and you can check out her review
here
3.5 stars
"Believe what you like, Eelyn. The bear is an omen." The words came slowly on her thin lips. "And omens often bring change."
I think I went into Sky in the Deep expecting to completely fall in love with everything... And while I
did
enjoy the book a lot, I think the hype got to me and it wasn't the five star read that I wanted it to be. The book hooked me with the opening chapter but I felt it perhaps couldn't live up to this for the rest of the book.
It's a
Viking inspired tale, full of ancient feuds between clans and Gods
. It's bloody and brutal and almost everything I could ask from a debut YA Fantasy:
• A great world that felt like a true and authentic Viking world
• Great use of language which again, felt very authentic
• A back story including clan warfare and feuds.
• Equality on the battle field between men and women
• Unflinching action and brutality when I didn't think that the book would go there
• A slowburn, hate-to-love romance
However for some reason I really struggled to connect with the characters and events that should have had me holding my breath or
feeling
just left a void.
I got the essence of what was going on, but everything just felt too perfunctory.
Eelyn was technically a great female lead - a little headstrong, a whole lot determined and virtually fearless. She had great family and values and fought for what she believed in.
Fiske was a little dry for my taste - I picked the love interest immediately and really struggled to get on board with the romance, even though it was some of my favourite things in a romance!
There were a few lovely descriptions, especially when the harsh winter set in to the land, but I did feel as though
the writing was a little expository and the interactions between characters felt too superficial
and the pacing felt a little off, starting with a huge battle and ending with a huge battle but the middle being filled with random incidents and a couple of escape attempts surrounded by everyday life in the Viking world. I felt like the plot wasn't propelled forward by much more than random incidents occurring to Eelyn and that we spent so much time 'warming up' to the world that the important stuff that happened about 75% into the book was too quickly swept under the rug and neatly resolved in such a short time.
I did really enjoy the representation of family and the fact that family doesn't necessarily always have to be blood
. There was also a pretty fierce female friendship that just needed to be fleshed out a little more. The overall message that underneath everything else we are all the same is also an important one.
I reminded myself of who I was— an Aska warrior who'd lost everything. A girl with fire in her blood.
The premise, the intentions and the bare bones of this one are good but I just feel that if it had been developed and cultivated a little more, this could have been a 5 star for me.