Review: Three Dark Crowns - Kendare Blake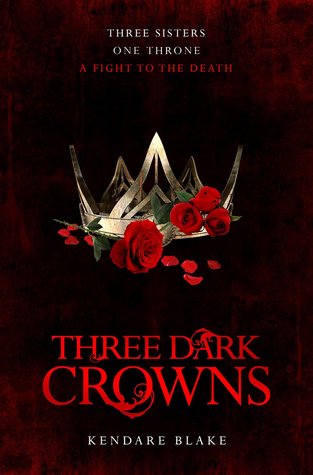 Three Dark Crowns
by
Kendare Blake
My Rating : {★★★★☆}
Young Adult Fantasy
Published September 22nd 2016 by Macmillan Children's Books
Three sisters. One crown. A fight to the death.

In every generation on the island of Fennbirn, a set of triplets is born: three queens, all equal heirs to the crown and each possessor of a coveted magic. Mirabella is a fierce elemental, able to spark hungry flames or vicious storms at the snap of her fingers. Katharine is a poisoner, one who can ingest the deadliest poisons without so much as a stomachache. Arsinoe, a naturalist, is said to have the ability to bloom the reddest rose and control the fiercest of lions.

But becoming the Queen Crowned isn't solely a matter of royal birth. Each sister has to fight for it. And it's not just a game of win or lose . . . it's life or death. The night the sisters turn sixteen, the battle begins.

The last queen standing gets the crown.
This is the opener in a new fantasy series - and it was
good
. I have found myself thinking about this book days after I closed it.
I haven't read anything written by
Kendare Blake
before, and I'm not sure what sort of author she is - are there happily ever afters? Does she cut pivotal characters without so much as blinking? I don't know - and this scares me for the future books in this series, as I have found myself attached to all three of the main characters - two of which are supposed to be slated for death.
The plot is complicated and intricate
- although this means that a lot of the beginning of this book is spent carefully building the world. If you don't appreciate the slow-build then I can see immediately where you might have a problem with this book. There are a lot of characters and places and things to keep track of but I managed to get into it really quickly and enjoyed unravelling the mystery of the island of Fennbirn.
Other than this I had some serious issues with some of the romance in this book, however I do appreciate that it's a part of the story but there was a bit of insta-lust/love happening that I didn't appreciate or find all that believable. That aside though I enjoyed the characters and their relationships throughout the story and I can't wait to see how things unfold in the sequels.
This is quite a ominous and nasty story
- three sisters all born equally as Queens but only one can survive the game of life and death they they will play with each other. The sororicide is not only permitted, it is expected, anticipated and celebrated by the people of the island, many of them making power plays for their own families.
Between the stunning world that Blake has built, the plot twists and the characters that I have become so attached to this one is
deliciously dark and totally addictive
. I cannot wait for the next instalment.
"No one really wishes to be a queen."