Review: Sea Witch - Sarah Henning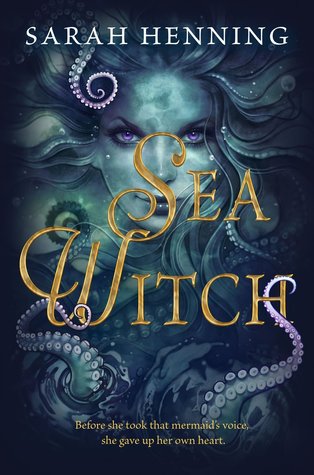 Sea Witch
by
Sarah Henning
Series: Standalone
My rating: {★★★★☆}
YA Fantasy Retelling
Expected publication: July 31st 2018 by Katherine Tegen Books
Source: ARC received from Katherine Tegen via Edelweiss
Everyone knows what happens in the end.
A mermaid, a prince, a true love's kiss.
But before that young siren's tale, there were three friends.
One feared, one royal, and one already dead.


~~~~~~~~~~

Ever since her best friend, Anna, drowned, Evie has been an outcast in her small fishing town. A freak. A curse. A witch.

A girl with an uncanny resemblance to Anna appears offshore and, though the girl denies it, Evie is convinced that her best friend actually survived. That her own magic wasn't so powerless after all. And, as the two girls catch the eyes—and hearts—of two charming princes, Evie believes that she might finally have a chance at her own happily ever after.

But her new friend has secrets of her own. She can't stay in Havnestad, or on two legs, unless Evie finds a way to help her. Now Evie will do anything to save her friend's humanity, along with her prince's heart—harnessing the power of her magic, her ocean, and her love until she discovers, too late, the truth of her bargain.

The rise of Hans Christian Andersen's iconic villainess is a heart-wrenching story of friendship, betrayal, and a girl pushed beyond her limits—to become a monster.
** I voluntarily read and reviewed an advanced copy of this book. All thoughts and opinions are my own. Any quotes were taken from the advanced readers copy and as such may not be accurate or present in the final version**
I buddy read this book with the amazing Amy from
A Magical World of Words
THE SEA IS A FICKLE WITCH.
She is just as likely to bestow a kiss as to steal the breath from your lips.
From the very outset this book had a
dark and foreboding atmosphere
, and I loved it, I mean, a book about the origin of the Sea Witch couldn't exactly be light and fluffy now, could it? It still wasn't exactly what I expected though and was a less 'The Little Mermaid' and more historical fiction meets YA fantasy but it was very cleverly done, with the world being based on many of our own real life places (Denmark and Øresund) and occurrences (witch hunts and Sankt Hans Aften including burning a witch on the bonfire!).
There's a surprising uniqueness about this as well - surprising since it's an origin tale of a well known and much hated villainess and Sarah Henning managed to take this to a new level giving me
a rare and originative view on this iconic character.
The relationships between the characters were actually very well built although the pacing of the information revealed may have been a little off here and there. I loved seeing the friendships, the romance and finally, the betrayals emerge from slowly drawn relationships.
The characters themselves were fairly well defined although at times they didn't seem to have the depth that I would have liked to have seen.
Nik in particular was possibly my favourite character
and yet the one who also needed the most work.
I loved that he was allowed to be who he was and that it didn't necessarily fit the usual role of the perfect 'Prince Charming'
. He was sensitive and thoughtful but also gangly and silly with enough bad decisions and charm to make him a lovely cinnamon roll of a character however he needed to be more
interesting
.
The plot pacing was also a bit up and down for me, at times seeming to bog down on unimportant details, however most of the time it was a lovely, tension-filled build up to the climax which also wasn't the predictable outcome I had expected.
All in all this is an astounding debut full of mystery and horror; a rich, historical fantasy that leaves me very excited and intrigued to see what Henning will produce next.
Though magic can shape life and death, love is the one thing it cannot control