Review: Timekeeper - Tara Sim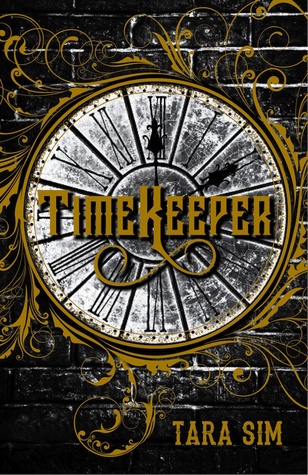 Timekeeper
by
Tara Sim
My Rating : {★★★★☆}
Young Adult Steampunk Fantasy
Expected publication: November 8th 2016 by Sky Pony Press
Source: Sky Pony Press via NetGalley
Two o'clock was missing.

In an alternate Victorian world controlled by clock towers, a damaged clock can fracture time—and a destroyed one can stop it completely.

It's a truth that seventeen-year-old clock mechanic Danny Hart knows all too well; his father has been trapped in a Stopped town east of London for three years. Though Danny is a prodigy who can repair not only clockwork, but the very fabric of time, his fixation with staging a rescue is quickly becoming a concern to his superiors.

And so they assign him to Enfield, a town where the tower seems to be forever plagued with problems. Danny's new apprentice both annoys and intrigues him, and though the boy is eager to work, he maintains a secretive distance. Danny soon discovers why: he is the tower's clock spirit, a mythical being that oversees Enfield's time. Though the boys are drawn together by their loneliness, Danny knows falling in love with a clock spirit is forbidden, and means risking everything he's fought to achieve.

But when a series of bombings at nearby towers threaten to Stop more cities, Danny must race to prevent Enfield from becoming the next target or he'll not only lose his father, but the boy he loves, forever.
This was such an enjoyable book and I just love the world that
Tara Sim
has created for
Timekeeper
.
A lot of thought has been put into this Steampunk/alternate history/fantasy realm
and the element of the mechanised clock towers has clearly affected this world: We're in Victorian era London but there's already been a huge industrial revolution. What I love that the author also integrated is how this has spurred on feminism and women's role in society, although trouser wearing working women are still looked at sideways.
Between this careful world building with a mix of mythology and magic and Sim's wonderfully descriptive and rich writing, this does not seem like a debut novel at all.
It took a few chapters for me to really get into this book, but once I was in it was a very compelling read and I couldn't wait to get back to it every time I was forced to put it down (life in general has a way of doing that to me!).
Danny is our main character and this book is a third person narrative from his POV. He's an incredibly complex young man who has suffered a terrible accident in the past and now has a form of PTSD/panic attacks. He's very young for a fully fledged Timekeeper mechanic and his voice throughout the entire book was completely authentic and there is just something about him that makes him so easy to relate to.
Colton is a clock tower spirit - and until Danny meets him and realises what he is he thought that the spirits were just myths. He's such a sweet and childlike character, and at times completely naive, and yet this too is believable considering what he is and how he has lived his entire existence.
I enjoyed almost all of the characters and their relationships with Danny. I loved his friendship with Cassie and the deterioration of his shaky relationship with his mother felt genuine and believable.
The author was able to bring so much depth to so many characters in such a relatively short time.
The romance between Danny and Colton is incredibly sweet and I loved that it wasn't the central focus of the story and yet was still significant. While romance in general had a huge part in the overall plot, the fact that this was a MM relationship wasn't made into a big deal
at all
. In fact homosexuality in this world felt extremely normal.
There's actually only one scene between the two that starts to get a little steamier.... but this then causes Colton's control of time to go completely askew so this means that things can't exactly progress so for the most part of the book there's just sweet and gentle kisses. Through it all there is a deep underlying bond of friendship that is being forged between these two and I'm interested to see where this is going to go in the next book. Can the romance go any further? Danny seems determined to make it work so I hope for his sake that things work out.
I actually can't decide if this book is more plot driven or more character driven - it seems to be a great mix of the two and this along with the extraordinary premise has made this book
completely original and fascinating.
"He was a boy of air and dust and sunlight. Everything that had gone into the making of the world."