Review: Replica - Lauren Oliver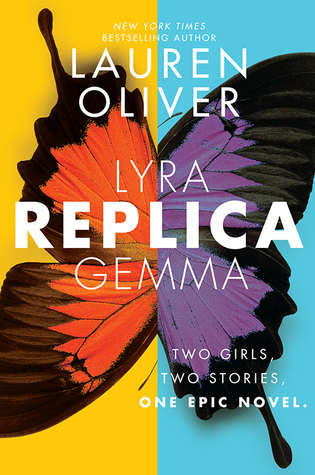 Replica
by
Lauren Oliver
Rating : {★★★☆☆}
Young Adult Fantasy Sci-Fi
Source: NetGalley
From Goodreads:
Gemma has been in and out of hospitals since she was born. 'A sickly child', her lonely life to date has revolved around her home, school and one best friend, Alice. But when she discovers her father's connection to the top secret Haven research facility, currently hitting the headlines and under siege by religious fanatics, Gemma decides to leave the sanctuary she's always known to find the institute and determine what is going on there and why her father's name seems inextricably linked to it. Amidst the frenzy outside the institute's walls, Lyra - or number 24 as she is known as at Haven - and a fellow experimental subject known only as 72, manage to escape. Encountering a world they never knew existed outside the walls of their secluded upbringing , they meet Gemma and, as they try to understand Haven's purpose together, they uncover some earth-shattering secrets that will change the lives of both girls forever...
I really did enjoy this book and I found it to be a very entertaining and thought provoking read. but there's just a few issues that I had that is keeping this rating at only a 3 star.
The concept of having two interlinking books and being able to literally flip from one book to the other was fantastic, and I appreciate how difficult it was to ensure that both timelines flowed well independent of one another as well as being able to join cohesively.
I read Replica alternating between the two stories, and I think I got more out of it this way as there are slight reveals between chapters that connect both stories. Little bits of foreshadowing and insight that really help build the plot. If you want to read one book and then the next, you can do that too as both books have their own full arc and can stand alone, independent of the other but together they give you a much richer world. I would recommend always starting with 'Lyra' - that's just the way I found it best.
It's a completely ambitious format. While making these two narratives revolve on the same timeline and making sure the reader is able to flip between books, Oliver was successful in producing two (three?) comprehensive stories, but that doesn't mean to say that these stories didn't suffer a little in the process. I think if I hadn't read the books alternating between chapters I would have found each one lacking somewhere. Keeping each narrative on the same timeline to allow for the alternating chapters meant that sometimes things felt rushed on one side or slow on the other. That's not to say it wasn't successfully done and a lot of my enthusiasm for this book comes from the format and cleverness of it.
The main characters of Lyra and Gemma were written well enough. The secondary characters I found to be a one dimensional and I didn't connect with them well at all which disappointed me. The plot is somewhat predictable and could have been a lot meatier in both separate narratives, but overall was still enjoyable.
What I did truly enjoy was the way that Oliver manages to make the reader question the way the world is and the ethics of the human race. This was stimulating and stirring and has stuck with me long after I closed the book.
Monsters weren't made, at least not by birth or fate or circumstance. Monsters chose to be monsters. That was the only terrible birth, the kind that happened again and again, every day.