It's Monday! What Are You Reading? 1st August 2016
It's Monday! What Are You Reading? is a place to meet up and share what you have been, are and about to be reading over the week. It's a weekly meme hosted by Kathryn at the Book Date and is a great chance to interact and of course to add to your TBR list (because it's never long enough!).
---
Happy Monday everyone and happy August! I hope your week is kind to you. Once again I had a fairly slow reading week but at least I managed to complete one of my ARC reads.
What I read last week:
My only completed read last week was an ARC of this gorgeous book. This is a sublime, immersive read that is full of imaginative and beautiful writing. Be prepared to be transported to a richly envisaged world. Traci Chee's debut novel was a fantastic read for me and I highly recommend it.
What I am currently reading:
These are the three books I'm currently trying to read through.
'Outlander' I have been wanting to read for a long time, and have had it open for a long time as well but now that I'm about 10% through I'm finding that the pace has picked up a lot and I'm enjoying it a lot more.
'Sun and Moon' I picked up for review and so far I'm finding it interesting and fast paced. I'm keen to finish this one soon so that I can get my review out and back to the author.
'And I Darken' was one of my most anticipated reads but I've been having some conflicted opinions. I am only 20% of the way through and most of it is gritty and compelling so I am looking forward to getting drawn deeper into it and hopefully I can finish it this
week too.
Up next: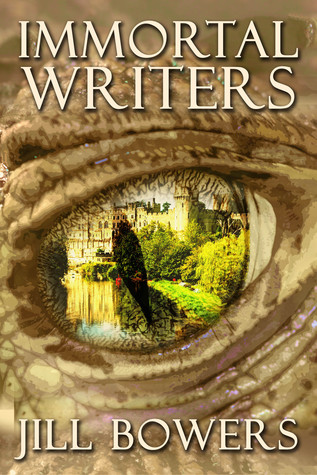 'Immortal Writers' I picked up from Netgalley and I LOVE the premise. Look at this synopsis!
Young up-and-coming author Liz McKinnen has no idea that her life is about to change forever when she comes home from her first book tour. When she's kidnapped and told by her captors that she has to kill her fantasy book's antagonist, she thinks that she's fallen into the hands of crazy, dangerous fans... until her antagonist sends a real, fire-breathing dragon after her. Liz is quickly initiated into the Immortal Writers, a group of authors from throughout time whose words have given them eternal life, and whose prose is so powerful that it's brought stories over from the Imagination Field into the Reality Field. As Liz meets authors such as William Shakespeare, JRR Tolkien, Edgar Allan Poe, and Jane Austen, she has to learn how to control magic, fight dragons, and face her own troubled past before her power-hungry villain takes over the world. Will she survive the ultimate battle against the dragon lord whom she created?
How wonderful does that sound?
What happened in your week? Are you going to add any of these to your TBR pile?