Review: The Reader - Traci Chee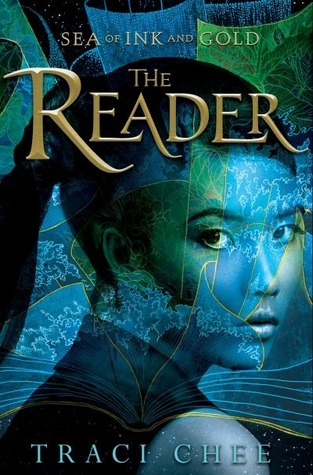 The Reader
by Traci Chee
Young Adult Fantasy
Publication Date: 13 September 2016
Publisher:
G.P. Putnam's Sons Books for Young Readers
Received from: First To Read
Sefia knows what it means to survive. After her father is brutally murdered, she flees into the wilderness with her aunt Nin, who teaches her to hunt, track, and steal. But when Nin is kidnapped, leaving Sefia completely alone, none of her survival skills can help her discover where Nin's been taken, or if she's even alive. The only clue to both her aunt's disappearance and her father's murder is the odd rectangular object her father left behind, an object she comes to realize is a book—a marvelous item unheard of in her otherwise illiterate society. With the help of this book, and the aid of a mysterious stranger with dark secrets of his own, Sefia sets out to rescue her aunt and find out what really happened the day her father was killed—and punish the people responsible.
Wow. What an
EPIC DEBUT
.
This is a book about a book; it is about the ability to read; it is about how words can be so incredibly powerful that the people in this world will kill for them; it is about being fierce and brave and it is about people being more than they ever thought they could be.
Let me say right now that this is the sort of book
you want to have a physical copy of
- I received an eARC and almost missed a few things because of this. I'm sure I did miss many more than I caught! In print I already know that this is going to be a stunning book. It's so cleverly done, so complex and intricate and holding the actual physical book in your hands is going to be as much of the story as the words that you will read on the paper. There's plenty of marginalia and hidden clues
in the book itself
. Even though I am an avid ebook enthusiast, this book is one that I am going to purchase for my physical library and I am going to do so eagerly and happily because I already know that this series is going to be a favourite of mine.
Within the very first few pages of this book I was drawn into the world that Chee has created. Her writing is
imaginative and beautiful
and her words conjured up a world that seemed to leap off the pages.
Within the very first few chapters I found myself already caring about these characters and seeing them as complex and believable people. When Sefia was going over the events in 'The House Overlooking the Sea' (Ch.3) I felt like I was right there alongside her and my heart was aching for this 9 year old who had never had a normal day in her life, who had just lost her father in the most horrific way I could imagine and who was learning some of life's toughest lessons.
From the very beginning this book sucked me in.
"But books are curious objects. They have the power to trap, transport, and even transform you if you are lucky. But in the end, books—even magic ones—are only objects pieced together from paper and glue and thread. That was the fundamental truth the readers forgot. How vulnerable the book really was.
To fire.
To the damp.
To the passage of time.
And to theft."
The vivid imagery and sheer complexity of this carefully crafted world amaze me. While it is not a fast paced read, the various stories are delicately and perfectly interwoven with each other along with strands of vengeance, romance and dashes of swashbuckling adventure. It is
interesting and clever
with a very intricate and detailed plot
but
I know that this might not appeal to all readers.
What I also loved about this book was the quiet equality vibe. When you create a completely new and distinct world like this, why not create men and women as equals throughout all of its history? And that is exactly what Chee has done; there is egalitarianism throughout and it is completely normal to all of the characters because this is just how things are in their world.
There were a few, very small issues for me in this book. There are a couple of times where I felt that our main character, Sefia was overplayed a little (e.g. bringing up Palo Kanta over and over) and a couple of times that this mostly well paced novel seemed to rush through a scene or two which caused a bit of a disconnect for me but this is something that I can easily overlook when faced with the rest of this book. If this is the debut of Traci Chee I cannot wait to see what she is going to do with the rest of this series.
It's not a five star read for me but I still highly recommend this book to anyone who is even slightly thinking about reading it and I can't wait to learn more about the sequel.
This is a book, and a book is a world,
and words are the seeds in which meanings are curled.
Pages of oceans and margins of land
are civilisations you hold in the palm of you hand.
But look at your world and your life seems to shrink
to cities of paper and seas made of ink.
Do you know who you are, or have you been misled?
Are you the reader, or are you the read?