Flashback Friday: Secret Vampire - L.J. Smith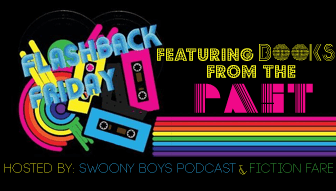 Flashback Friday is hosted and created by
Swoony Boys Podcast
&
Fiction Fare
and I love it because it celebrates books that are at least two years old - and it's not only the new releases that deserve our attention!
For this week, I'm featuring a book from the author who introduced me to Young Adult Paranormal books:
Secret Vampire - L. J. Smith
. It is the first of a series which has not actually been completed yet, but I am still holding out hope that we will see the finale!
(First published January 1998)
Secret Vampire
(Night World #1)
by
L.J. Smith
From Goodreads:
The diagnosis for Poppy was death. there was no hope--until James, her best friend and secret love, appeared in the hospital. But this was a James she didn't know. He offered Poppy eternal life. Only he could open the door to the Night World. They're soulmates--but can she follow him into death and beyond?
I know, I know : The cover is a real 90's style YA and the blurb could really do with some work but this book is worth a try. This was actually my least favourite book in the series but if you are going to read them you need this intro to the Night World and the major series plot.