Flashback Friday: Sabriel - Garth Nix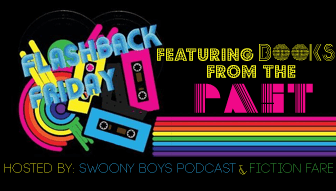 Flashback Friday is hosted and created by
Swoony Boys Podcast
&
Fiction Fare
and I love it because it celebrates books that are at least two years old - and it's not only the new releases that deserve our attention!
For this week, I'm featuring a book that I've only just recently read (see my review here) but it was first published in the 90's. Having read this and the next two books in the same series I've discovered that I absolutely love Garth Nix's work. It's the first of the Abhorsen series based in the Old Kingdom and has a truly unique magical system and a well built fantasy world.
From Goodreads:
Sent to a boarding school in Ancelstierre as a young child, Sabriel has had little experience with the random power of Free Magic or the Dead who refuse to stay dead in the Old Kingdom. But during her final semester, her father, the Abhorsen, goes missing, and Sabriel knows she must enter the Old Kingdom to find him.
With Sabriel, the first installment in the Abhorsen series, Garth Nix exploded onto the fantasy scene as a rising star, in a novel that takes readers to a world where the line between the living and the dead isn't always clear—and sometimes disappears altogether.