Review: Wintersong - S. Jae-Jones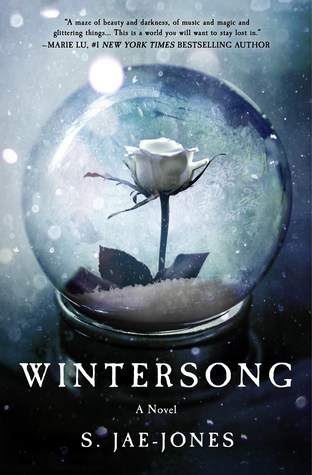 Wintersong
by
S. Jae-Jones
My rating: {★★★★☆}
Young Adult Fantasy Retelling
Expected publication: February 7th 2017 by Thomas Dunne
Source: St. Martin's Press via NetGalley
Dark, romantic and unforgettable, a fantastical coming-of-age story for fans of Labyrinth and The Darkest Part of the Forest.

Deep in his terrifying realm underground, the cold and forbidding Goblin King casts a dark shadow over nineteen-year-old Liesl. Her grandmother has always warned her to follow the old laws, for every year on the longest night of winter, she claims, the Goblin King will emerge into the waking world in search of his eternal bride. Sensible and plain, Liesl knows it's her duty to keep her beautiful sister Käthe safe from harm. But Liesl finds refuge only in her wild, captivating music, composed in secret in honor of the mysterious Goblin King.

When Käthe is stolen by the Goblin King, Liesl knows she must set aside her childish fantasies to journey to the Underground and save her. Drawn despite herself to the strange, beautiful world she finds—and the mysterious man who rules it—she finds herself facing an impossible choice. With time and the old laws working against her, Liesl must discover who she truly is before her fate is sealed.

Set at the turn of the 19th century, when young upstart composers like Beethoven were forever altering the sound of music, S. Jae-Jones' richly imagined debut spins a spellbinding tale of music, love, sisterhood, and a young woman's search for self-actualization.
This is a beautifully written book
- the prose is eloquent with an almost classical sense to it and the world is exquisite without being too heavy in detail. While I was reading it I felt as though I were under Der Erlkönig's thrall myself.
It is compelling, dark and sensual; a riveting read full of poetry and a truly incredible atmosphere
.
There's a wonderful sense of values here and I enjoyed the fact the Liesl was not conventionally beautiful however she is brave, clever and a wonderful composer. There are plenty of faults to be found in our main character, but above all I felt that just made her more accessible. There's envy, bitterness, selfishness and selflessness. At the end of the day, for me, there was nothing that Liesl would not do for the love of her family and I find that incredibly courageous.
It's a journey of self discovery for so many of the characters. We get to know Käthe, Josef and Der Erlkönig through Liesl's POV and I was entranced for almost all of the story.
The romance was bittersweet with all the nuances of complex emotions and although somewhat foreign and odd, it was spellbinding all the same.
I'm not sure how I feel about the ending but I've heard rumours of a companion novel coming next so that is definitely something to look forward to.
This book is eerie and ethereal, poignant and strange and geared toward a sophisticated audience
. If you get the opportunity to read this one, definitely take it. I can't wait to hear what you think.
"That one . . . burns like kindling. All flash, and no real heat. But you," he said. "You smolder, mistress. There is a fire burning within you, but it is a slow burn. It shimmers with heat, waiting only for a breath to fan it to life. Most curious." A slow grin spread over his mouth. "Most curious, indeed."