Review: Uprooted - Naomi Novik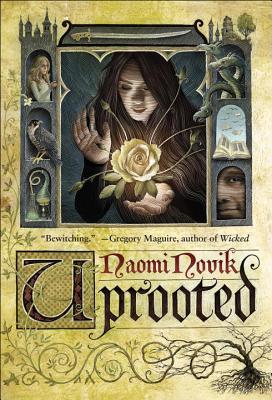 Uprooted by Naomi Novik
My rating: {★★★★★}
YA Fantasy
Published May 19th 2015 by Del Rey
Source: Purchased
"Our Dragon doesn't eat the girls he takes, no matter what stories they tell outside our valley. We hear them sometimes, from travelers passing through. They talk as though we were doing human sacrifice, and he were a real dragon. Of course that's not true: he may be a wizard and immortal, but he's still a man, and our fathers would band together and kill him if he wanted to eat one of us every ten years. He protects us against the Wood, and we're grateful, but not that grateful."

Agnieszka loves her valley home, her quiet village, the forests and the bright shining river. But the corrupted Wood stands on the border, full of malevolent power, and its shadow lies over her life.

Her people rely on the cold, driven wizard known only as the Dragon to keep its powers at bay. But he demands a terrible price for his help: one young woman handed over to serve him for ten years, a fate almost as terrible as falling to the Wood.

The next choosing is fast approaching, and Agnieszka is afraid. She knows—everyone knows—that the Dragon will take Kasia: beautiful, graceful, brave Kasia, all the things Agnieszka isn't, and her dearest friend in the world. And there is no way to save her.

But Agnieszka fears the wrong things. For when the Dragon comes, it is not Kasia he will choose.
This book! This book was awesome. Everyone should read this book.
I completely devoured this book, too fast in fact. I wish I could have drawn it out longer but I was consumed with needing to read it and read it at all hours of the night! I have never read anything by Naomi Novik before but I can guarantee you I am going to pick up the first of her Temeraire series as soon as possible.
There wasn't much I didn't like about this book. I don't want to go too much in to the details as most of it is left vague by the blurb and it's better that way. But suffice to say that within the first few pages of this book I had already been drawn in so far and I knew immediately that I had picked up something fantastic.
The main characters were well thought out, multifaceted and dynamic. Their interactions were all of the things: charming, funny, heart warming, heart rending and compelling. I especially loved how the characters stayed true to form - totally consistent with themselves - and didn't suddenly change or have unrealistic character growth just because of *love*.
The Wood as a character in itself was so cleverly built and was always a creeping darkness lingering in the back of my mind as I read. There was a little romance, although it was far from the central feature but I found it believable and I found myself begging for more; more for me and more for my beloved characters.
I couldn't predict where this was going, and I loved following all the little turns on the path through to the end.
If this book even remotely catches your eye, READ IT! It's worth it